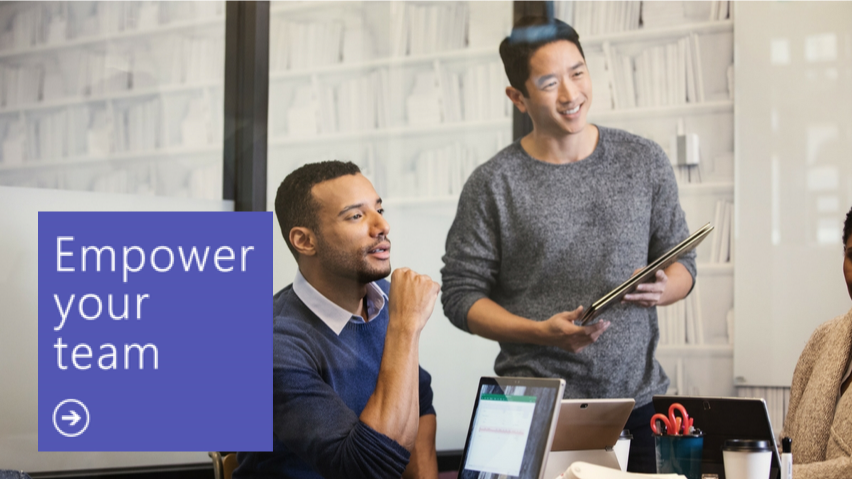 Microsoft Teams brings chat, content, people, and tools together, all in one hub, wherever you are.
Teamwork is how work gets done. Today, people who work as teams are more likely to be high performers: working faster, iterating quicker, and accomplishing more.
Employees have been using chat tools like text messages and social media with ease for years. Transitioning to similar forms of communication at work is a natural next step for the mobile-first, instant communication-driven workforce. Microsoft Teams is the collaboration tool that enables teamwork at all levels of your organization, making it easy for your staff to work, share, chat, and achievemore.
Chat, calls & meetings for today's teams: Communicate in the moment and keep everyone in the know. Chat in public or private groups or one-on-one. Audio and video calls are just a click away, and notifications and chat history ensure everyone is kept updated.Host audio, video, and web conferences with anyone inside or outside your organization. Get features like scheduling assistance, note taking, desktop sharing, uploading files, and chat messaging. For big meetings, go live with Skype Meeting Broadcast. Host webinars, all-hands meetings, and other one-to-many presentations with up to 10,000 attendees internal or external to your organization.
Collaborate with integrated Office 365 apps: Teams makes teamwork easy. Access and manage all your conversations, files, and tools in one team workspace. Coauthor and share files with popular Office 365 apps like Word, Excel, PowerPoint, OneNote, SharePoint, and Power BI.
Customize for each team: Tailor your Teams workspace to include content, capabilities,data and apps your teams use every day. Integrate apps from Microsoft and third-party partner services to tailor your process, increasing teamwork and productivity. Tailor your workspaceto get notifications and content from services you care about—Trello, GitHub, Adobe Creative Cloud, SurveyMonkey, and many more.Tabs and Connectors provide quick access to frequently used documents, websites and 3rd party apps such as Trello, GitHub and Asana.
Minimize silos and increase transparency with channels: There is never only one project happening at once. Channels are used to separate content and conversations which will help your team focus on specific topics or areas. Channels are dedicated sections within a team to keep conversations organized by specific topics, projects, department, disciplines and more —-whatever works for your team! This also makes it easy for different members of the team to see what's going on when.
Enterprise security, compliance & manageability: Teams is integrated into Office 365, which means it features the enterprise-grade security and compliance you expect from Office 365. Teams is Tier C-compliant at launch. This includes the following standards: ISO 27001, ISO 27018, SSAE16 SOC 1 and SOC 2, HIPAA, and EU Model Clauses (EUMC). Teams also enforces team-wide and organization-wide two-factor authentication, single sign-on through Active Directory, and encryption of data in transit and at rest. Files are stored in SharePoint and are backed by SharePoint encryption.
With Microsoft Teams you'll unleash the power of teamwork, and Vertikal6 can help you get started on the right foot. We have extensive experience in driving value realization from Microsoft's teamwork solutions. Our experience with Office 365 including Microsoft Teams, SharePoint, Yammer, and Stream will help you build a culture of collaboration that empowers your employees while adhering to the growing security and compliance requirements. As your partner we can provide guidance and insights you can use to help your employees drive adoption and make the best use of Microsoft Teams within your organization. Contact us today to learn more.